13ctého května zahraji na charitativní akci v klubu Mecca. Zde je plakát a tiskovkové info: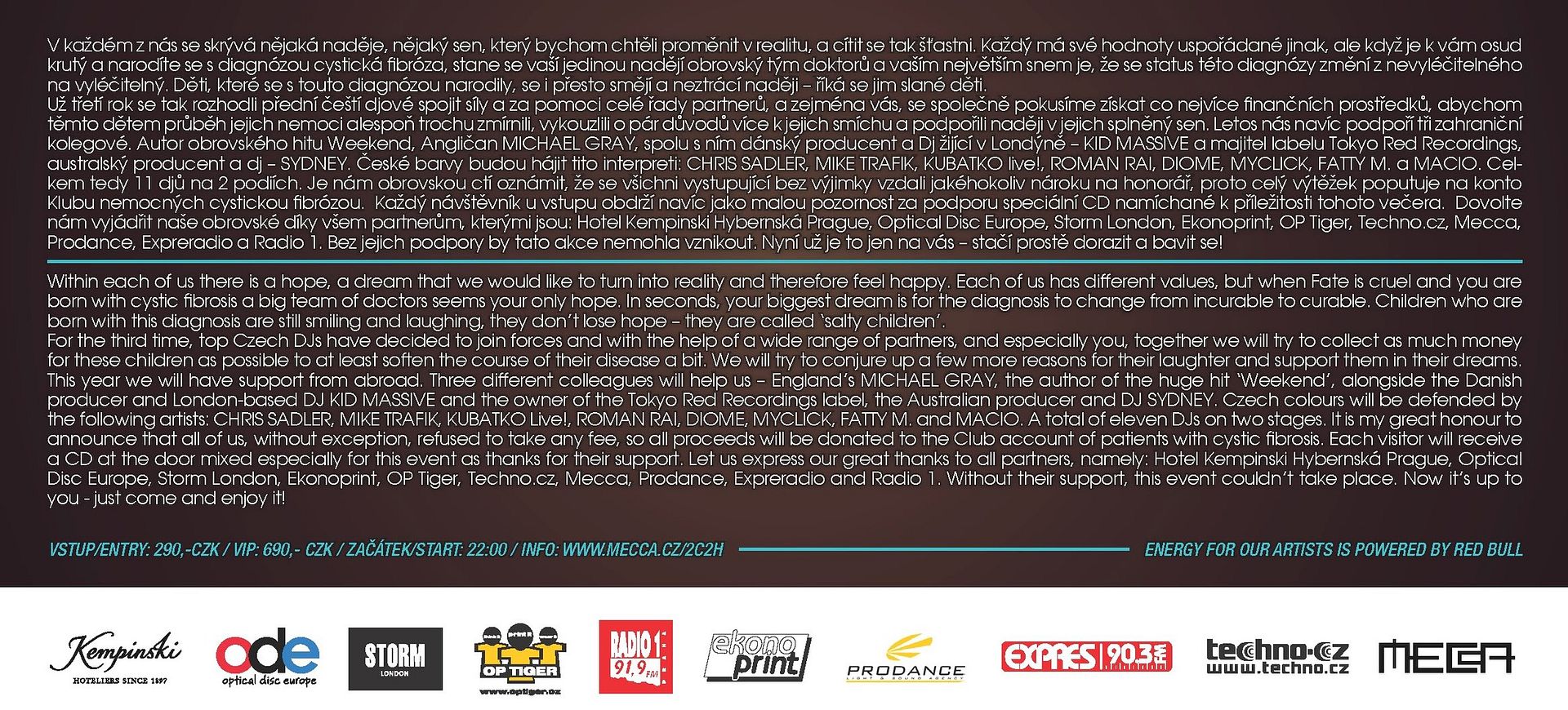 V každém z nás se skrývá nějaká naděje, nějaký sen, který bychom chtěli proměnit v realitu, a cítit se tak šťastni. Každý má své hodnoty uspořádané jinak, ale když je k vám osud krutý a narodíte se s diagnózou cystická fibróza, stane se vaší jedinou nadějí obrovský tým doktorů a vaším největším snem je, že se status této diagnózy změní z nevyléčitelného na vyléčitelný. Děti, které se s touto diagnózou narodily, se i přesto smějí a neztrácí naději – říká se jim slané děti.
Už třetí rok se tak rozhodli přední čeští djové spojit síly a za pomoci celé řady partnerů, a zejména vás, se společně pokusíme získat co nejvíce finančních prostředků, abychom těmto dětem průběh jejich nemoci alespoň trochu zmírnili, vykouzlili o pár důvodů více k jejich smíchu a podpořili naději v jejich splněný sen. Letos nás navíc podpoří tři zahraniční kolegové. Autor obrovského hitu Weekend, Angličan MICHAEL GRAY, spolu s ním dánský producent a Dj žijící v Londýně – KID MASSIVE a majitel labelu Tokyo Red Recordings, australský producent a dj – SYDNEY. České barvy budou hájit tito interpreti: CHRIS SADLER, MIKE TRAFIK, KUBATKO live!, ROMAN RAI, DIOME, MYCLICK, FATTY M. a MACIO. Celkem tedy 11 djů na 2 podiích. Je nám obrovskou ctí oznámit, že se všichni vystupující bez výjimky vzdali jakéhokoliv nároku na honorář, proto celý výtěžek poputuje na konto Klubu nemocných cystickou fibrózou. Každý návštěvník u vstupu obdrží navíc jako malou pozornost za podporu speciální CD namíchané k příležitosti tohoto večera. Dovolte nám vyjádřit naše obrovské díky všem partnerům, kterými jsou: Hotel Kempinski Hybernská Prague, Optical Disc Europe, Storm London, Ekonoprint, OP Tiger, Techno.cz, Mecca, Prodance, Expreradio a Radio 1. Bez jejich podpory by tato akce nemohla vznikout. Nyní už je to jen na vás – stačí prostě dorazit a bavit se!
VSTUP: 290,-Kč
VIP: 690,-Kč
ZAČÁTEK: 22:00
INFO: www.mecca.cz/2c2h
Within each of us there is a hope, a dream that we would like to turn into reality and therefore feel happy. Each of us has different values, but when Fate is cruel and you are born with cystic fibrosis a big team of doctors seems your only hope. In seconds, your biggest dream is for the diagnosis to change from incurable to curable. Children who are born with this diagnosis are still smiling and laughing, they don't lose hope – they are called 'salty children'.
For the third time, top Czech DJs have decided to join forces and with the help of a wide range of partners, and especially you, together we will try to collect as much money for these children as possible to at least soften the course of their disease a bit. We will try to conjure up a few more reasons for their laughter and support them in their dreams. This year we will have support from abroad. Three different colleagues will help us – England's MICHAEL GRAY, the author of the huge hit 'Weekend', alongside the Danish producer and London-based DJ KID MASSIVE and the owner of the Tokyo Red Recordings label, the Australian producer and DJ SYDNEY. Czech colours will be defended by the following artists: CHRIS SADLER, MIKE TRAFIK, KUBATKO Live!, ROMAN RAI, DIOME, MYCLICK, FATTY M. and MACIO. A total of eleven DJs on two stages. It is my great honour to announce that all of us, without exception, refused to take any fee, so all proceeds will be donated to the Club account of patients with cystic fibrosis. Each visitor will receive a CD at the door mixed especially for this event as thanks for their support. Let us express our great thanks to all partners, namely: Hotel Kempinski Hybernská Prague, Optical Disc Europe, Storm London, Ekonoprint, OP Tiger, Techno.cz, Mecca, Prodance, Expreradio and Radio 1. Without their support, this event couldn't take place. Now it's up to you – just come and enjoy it!
ENTRY: 290,- CZK
VIP: 690,- CZK
START: 22:00
INFO: www.mecca.cz/2c2h